FOUNDRY HISTORY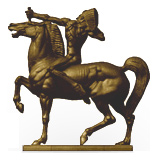 Ljevaonica umjetnina ALU d.o.o.is the oldest art foundry in this part of Europe. It was founded in 1907 in Zagreb, Ilica 83 at The Higher School for Art and Applied Art (today The Academy of Art ALU) on the initiative of sculptor Robert Frangeš. Thus in the early 20th century the history of cast sculpture in Croatia has begun.
At that time Foundry served for teaching future sculptors the technique of casting bronze and plaster.
After Robert Frangeš, managing the foundry was taken in charge by the sculptor Ivo Kerdić, who in 1913 guided the sand casting of Robert Frangeš's two meters tall bronze sculpture «Elegija», in one piece. That was the beginning of casting numerous artworks of Croatian sculptors.
When the World War I ended, the famous Croatian sculptor Ivan Meštrović came to Zagreb, and held the principalship of the Academy from 1922-1944. In the year 1921 artisan Franjo Antolić sand cast his sculpture «Angel of Peace» and bronze door for Račić Mausoleum in Cavtat, as well as Frangeš's «Man from Šestine», «Philosopher», and many other sculptures.
In 1926 Meštrović sent Antolić to Italy in order to learn the «lost wax» casting technique. The same year he trusted him with casting of his statues «Indians» (1927-1928) commissioned by Fergusson Institute in Chicago. «Indians» were installed in Central Grant Park in Chicago, in 1928.
After that, Meštrović's statue «Grgur of Nin», today installed in Split, in front of the Golden Gate of Diocletian Palace, was cast in the foundry, and then till the beginning of  the World War II thousands artworks of Croatian sculptors were cast.
During the World War II "Ljevaonica umjetnina ALU» was involved only in educational praxis for students of the Academy of Art.
When the war ended, the foundry work was again in full swing. Artworks of renowned sculptors have been cast, such as: Antun Augustinčić, Vanja Radauš, Fran Kršinić, Grgo Antunac, Vjekoslav Rukljač, Velibor Mačukatin, Ivan Sabolić, Mirko Ostoja, Nikola Njirić, and many others.
In fifties of the past century (1953) «Ljevaonica umjetnina ALU» became an independent organisation that, besides art casting and cooperation with Academy of Art, performs numerous restoration and conservation works.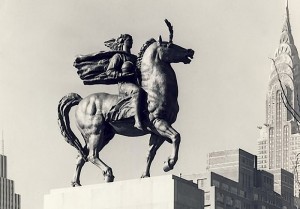 In 1954, the bronze sculpture "Peace (or Horsewoman)", work of Antun Augustinčić, was cast in the foundry, and placed in front of the UN Headquarters in New York.
The statue "Ethiopian National Liberation", work of sculptors Augustinčić and Kršinić for Addis Ababa, has also been cast.
Since 1984 the manager of «Ljevaonica umjetnina ALU» d.o.o. has been M.Sc. Željko Mačešić.
In 1987, three bronze sculptures were cast ("Timor Dei", "Strast", "Lav Nikolajević Tolstoj"), works of Ivan Meštrović, for the exibition of his works in Berlin, Zurich and Wiena.